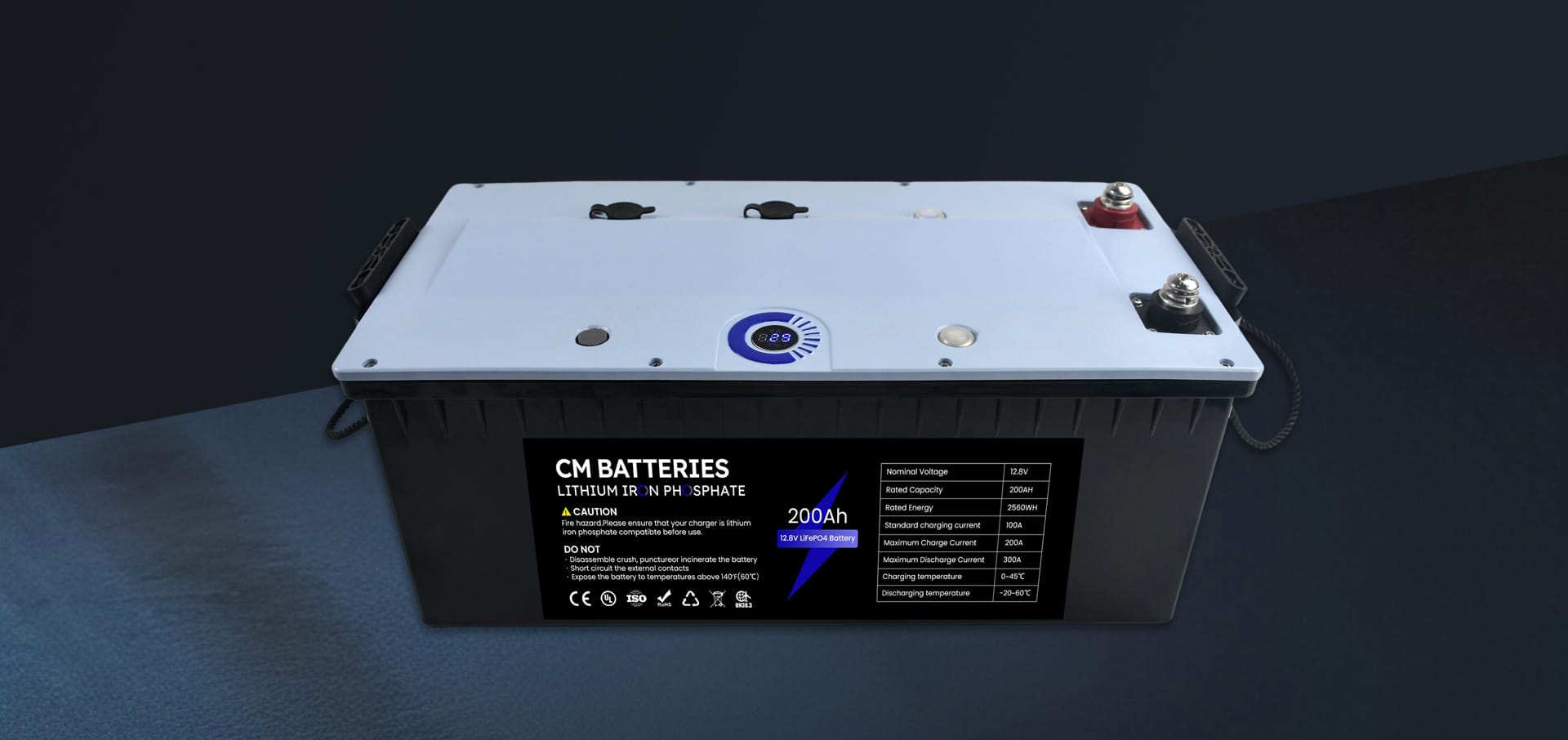 12V 200AH LiFePO4 Battery 2560Wh Low Temperature Charging & BMS 100A ~200A
Winters, hurricanes, humidity, if you're always struggling with nature's surprises. CMB 12V 200Ah lifepo4 battery will be your most reliable partner.
The 12V 200Ah lithium ion battery is IP68 waterproof and has a self-heating function. You can use it in cold and wet weather, which makes it great for trolling motors, fishing, winter camping, and RVs.
CM 12V lithium ion battery 200Ah (LiFePO4) can support UART or 485 communication. Carrying Bluetooth function can help you connect to CMB IPhone&Android APP.
Up to 4 in series and limited parallel. You can safely connect battery packs with parallel modules together without harming the BMS, even if their voltages differ. The battery voltage must be the same and parallel before series connection.
Lithium ion deep cycle battery is impressive for their durability, longer cycle times, and less thermal runaway. It has five times more cycles than LiNiCoMnO2 and is lighter and more environmentally friendly than lead-acid batteries.
CMB 12V200Ah deep cycle battery has a BMS with protection against overcharging, over-discharging, overcurrent, and short circuits. With high temperature cut-off and low temperature charging protection.
An A-grade lithium iron phosphate battery makes up the lithium-ion deep-cycle battery. It has high energy density, no memory effect, more stable performance, and higher power.
Our 12V 200Ah lithium ion deep cycle battery provides 10% DOD > 6000 cycles, 100% DOD > 2000 cycles.

Tips for Repairing Faulty Batteries
Balancing the internal resistance of battery cells can solve 90% of battery failures. Be sure to follow the operating procedures and use the equipment provided by CMB to connect to the lifepo4 battery for maintenance.
Of course, sending the battery to your nearest CMB repair station is a reliable choice.
Protecting the BMS in Parallel Connection
When the different voltages lifepo4 batteries are connected in series, the battery with high voltage will charge the battery with low voltage, and this charging current can destroy the BMS of the battery in only 0.1 seconds (the instantaneous current is very large), so CMB LiFePo4 battery will be equipped with Connecting wires with resistors to ensure the safety of series and parallel battery connection, so that your battery can be used in an RV, and a battery can be removed for portable use as a POWER BANK.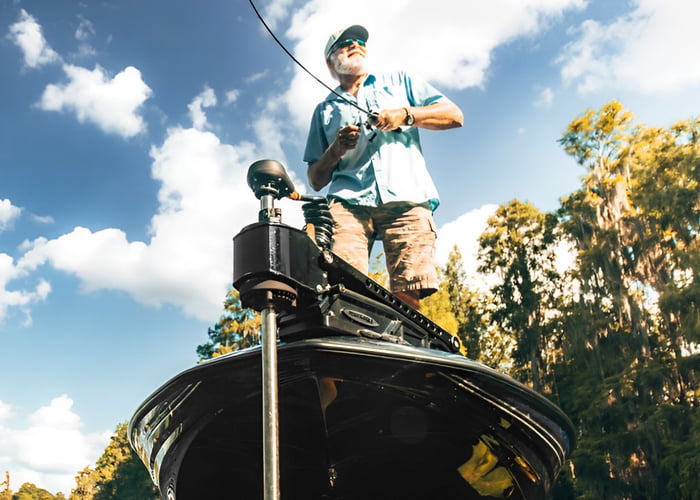 Trolling Motor:
CMB 12V 200Ah lithium iron phosphate battery will become the most reliable partner for your trolling motor, referring to the recommendation:
55 to 80 pounds–12V 200Ah lifepo4 battery

80 to 100 pounds–12V 300Ah lifepo4 battery
Waterproof IP68:
Waterproof 12V battery can handle wet conditions with ease, even if the battery falls into the lake, it will not damage the BMS and battery cells.
Self Heating:
CMB cold weather lithium battery equipped with a self-heating func, it can heat the battery to above -20 ℉, Ideal for low temperatures and harsh environments, making charging safer and boosting your energy in winter.
Low Temperature Discharge:
CMB low-temperature lifepo4 battery is the perfect winter soldier. It can perform well in -4 to 32°F, with continuous and stable discharge at low temperatures. Much better than SLA or other lithium.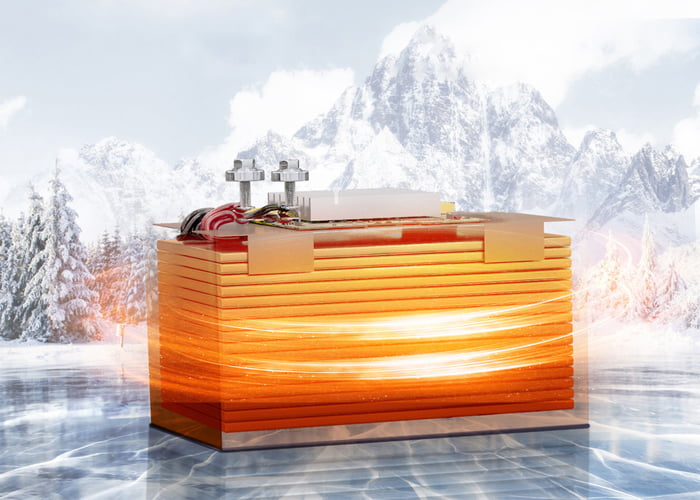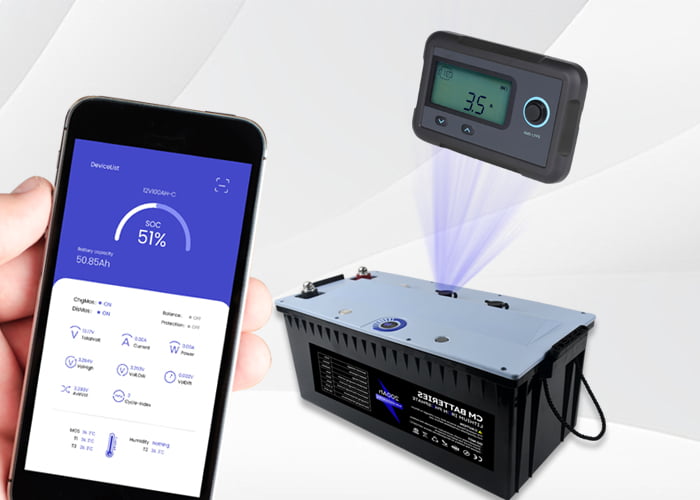 Bluetooth and APP:
The 12v 200ah lifepo4 battery with Bluetooth function can check the battery status through the mobile phone APP, and timely alarm battery power, to ensure that you can return happily.
Monito:
The camping deep cycle battery has a connection communication protocol interface, connecting monitoring screen can display voltage and SOC, and it can help you judge the battery status.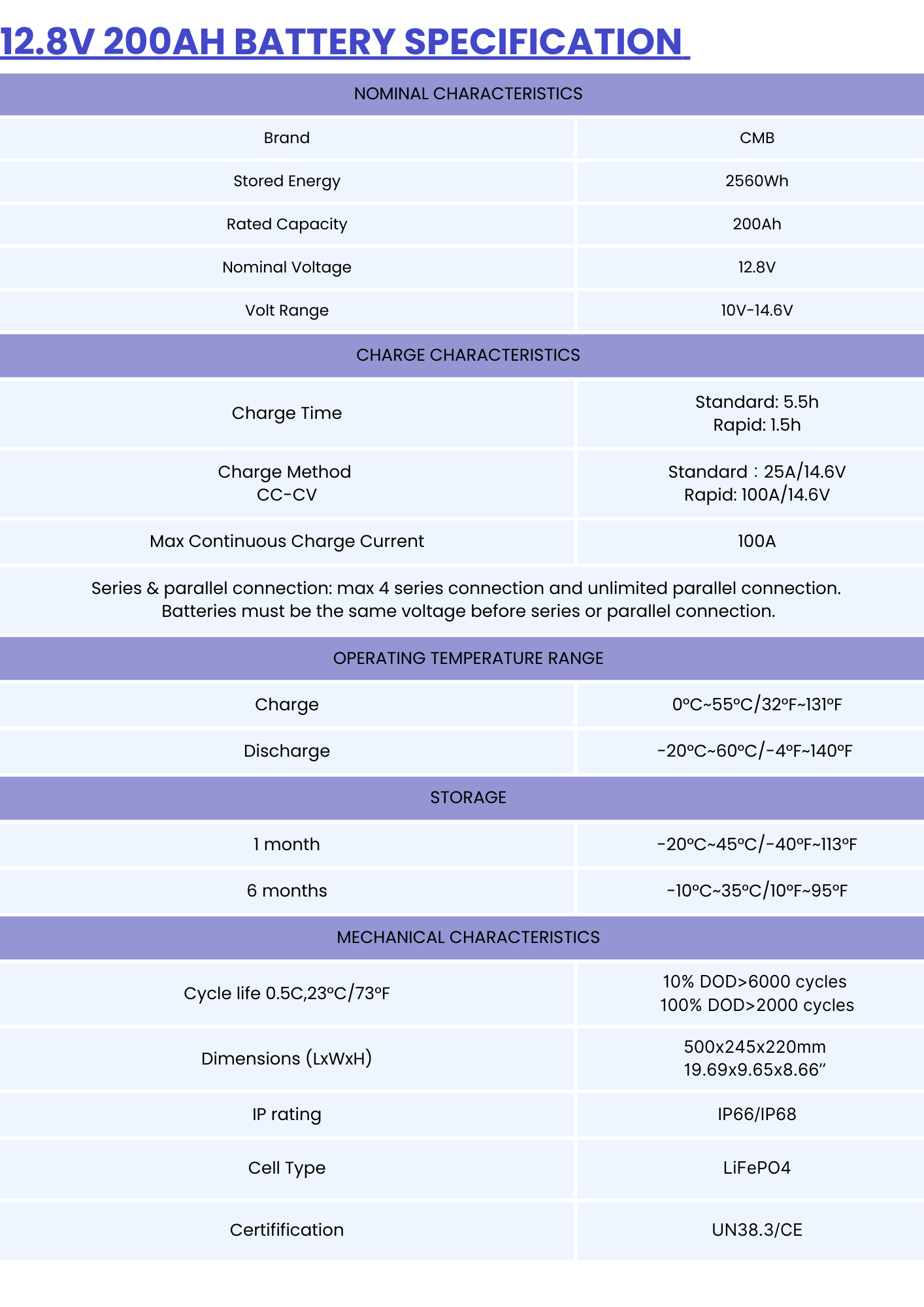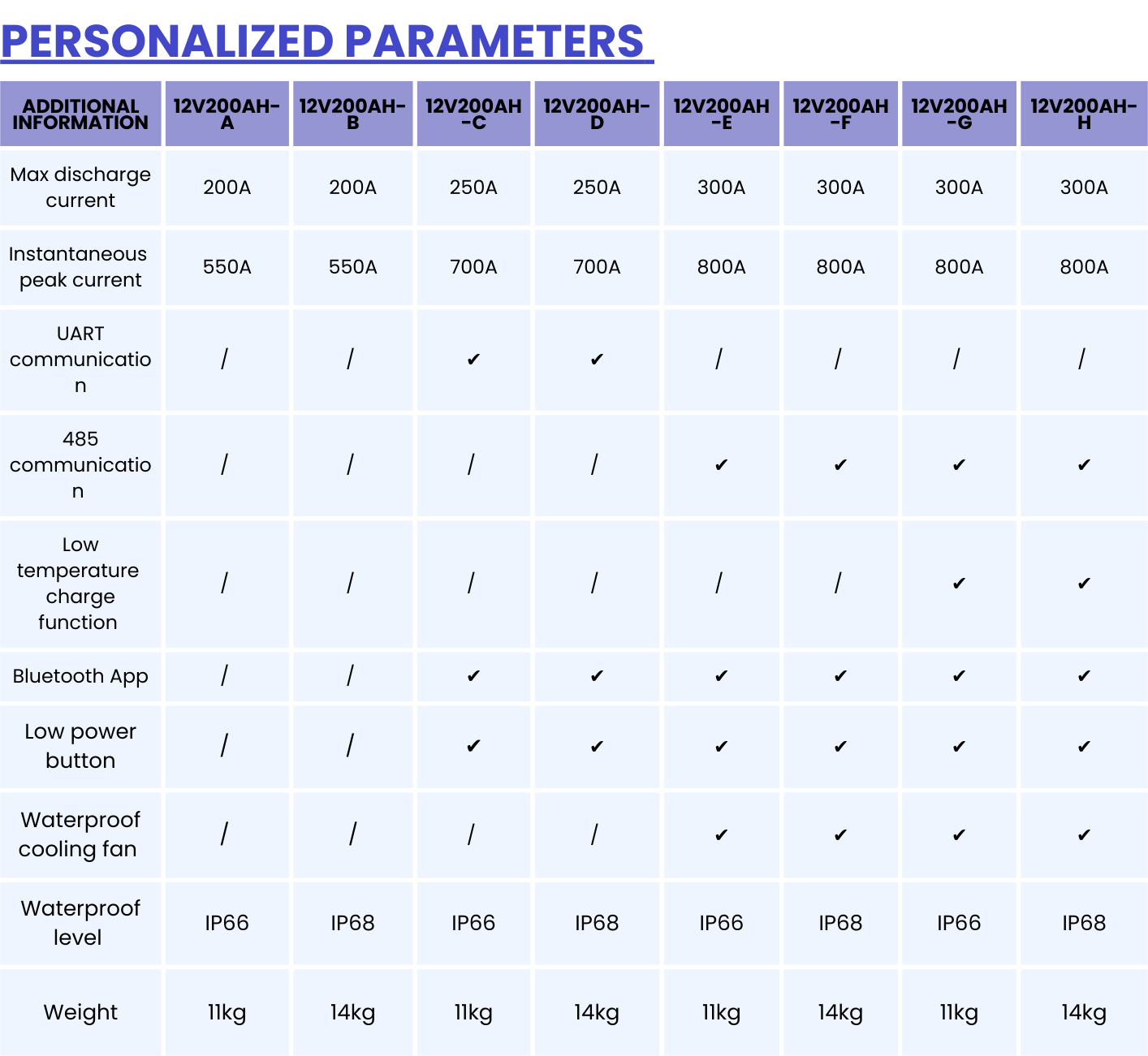 CMB 12.8V 200Ah LiFePO4 Battery Specification Download
3 Charging Ways
Way #1: Lithium Iron Phosphate Charger (14.6V)
We have 3 lithium charger models for the 12V 200Ah lithium ion deep cycle battery.
Model #1: 14.6V 10A charger, the charge time is 24 hours.
Model #2: 14.6V 20A charger, the charge time is 12 hours.
Model #3: 14.6V 50A charger, the charge time is 5 hours.
Way #2 :Solar panels with PPT
Way#3:Inverter built-in AC to DC
CMB only provide the dedicated charger for 12V 200Ah lithium ion battery pack .
More Technical Articles On LiFePO4 Batteries
12V 200Ah LiFePO4 Battery FAQ
How to return and repair?
We want to be sure you're as happy with CMB batteries as we are, When there is a problem with the battery, CMB has many solutions that can provide you with solutions
1. Connect the leftmost port with the CMB balancing device, which makes the voltage of the battery pack tend to be normal, it can solve 90% of battery problems.
2. Choose the nearest CMB repair station, which can help you solve 100% of battery problems.
3. If you are CMB dealer, our CTO will guide you to repair the wrong battery. If the battery still cannot be started, we will take back the battery and refund or reissue the corresponding number of batteries in the next order.
How soon can I get the battery?
100Ah-300Ah Batteries are dangerous goods, therefore, sea freight from CMB factory to your warehouse is the most reliable way.
To USA East -25 Days
To USA Western -35 Days
To Europe -30 Days
To South Africa-35 Days
We make every effort to process your order quickly so you can get your system or gear up and running right away.
Do you have the certification?
CMB's batteries have UL, FCC, and CE certificates. CMB has sufficient certificate registration experience, if you need other certificates, please contact us.
How to become the CMB reseller?
If you have a warehouse and are familiar with batteries, CMB's high-quality and cost-effective batteries must be your best partner to develop the market. Contact us, you can get a model of high-quality products and peer service.
Can I use a heating element to keep my Lithium batteries above freezing?
If you want to use some type of heating element to keep your battery above freezing, the CMB 12V/24V Lifepo4 battery with self-heating is the best choice. This will be your most durable and powerful energy in winter.
Is it good in bad weather?
CMB 12V/24V Lifepo4 battery outperform other batteries in most weather conditions.
1. It can charge between 32° F and 113° F and discharge between -4° F and 131° F. Outside of these ranges, it can discharge at a slower rate.
2. IP68 makes it able to continuously challenge the humid environment, even falling into the lake, it will not damage the BMS and battery cells.
We Are Here To Boost Your Energy.
Tailored Customization
Our design team can create custom battery designs for just about any device or machine.
Timely Delivery
Our efficient production and distribution process gets your product delivered in a timely manner.
Quality Guarantee
We stand by our products and guarantee you'll be happy with your purchase.