High Temperature Battery Pack Solution
CMB is experting in research and study rechargeble batteries capable of operating in a high temperature environment to power GPS car trackers ,high speed motors and drilling exploration equipment.The normal li ion batteries work temperature is -20°C~60°C.When the work temperature 60°C,it belongs to the high temperature and when the work temperature -20°C,it belongs to low temperature.But CMB's high temperature battery packs work at -40°C ~85°C.It 's also called wide range temperature batteries.
CMB has been provided with battery packs for different industrial applications. We have expertise in crafting high temperature lithium ion batteries for a lot of outdoor IoT devices including but not limited to:
GPS car trackers (For famous car or electric car companies)
Outdoor sensor system for trucks
Hightlight Advantage of CMB's High Temperature Lithium Batteries
CMB's engineering team own the experience on new battery technology such as heat insulation and heat diffusion layers to support the temperature over 85°C
The warranty is 1~5 years according to your specific li ion battery packs solution.Besides,the warranty is 3 years for the GPS car trackers.
Before the shipment.CMB will do the high temperature in CMB's Lab.
The Features of High Temperature Lithium Batteries :
The operating temperature of discharge: -40°C ~ 85°C/-40°F~185°F
The operating temperature of charge:-20°C ~ 60°C/-4°F~140°F
The high temperature lithium battery works at +85°C /185°F but the standard lithium ion battery pack works at 85°C damaged even fired.
When your devices have high discharge power, the engineering team of CMB adopts the cooling ribs and the latest pack workcraft to reduce the temperature.
The use of more advanced structure design, such as heat insulation and heat diffusion layers, can help reduce the risk of thermal runaway in high-temperature batteries in high-temperature environments.
3.7V 2600mAh High Temperature Batteries for IoT Devices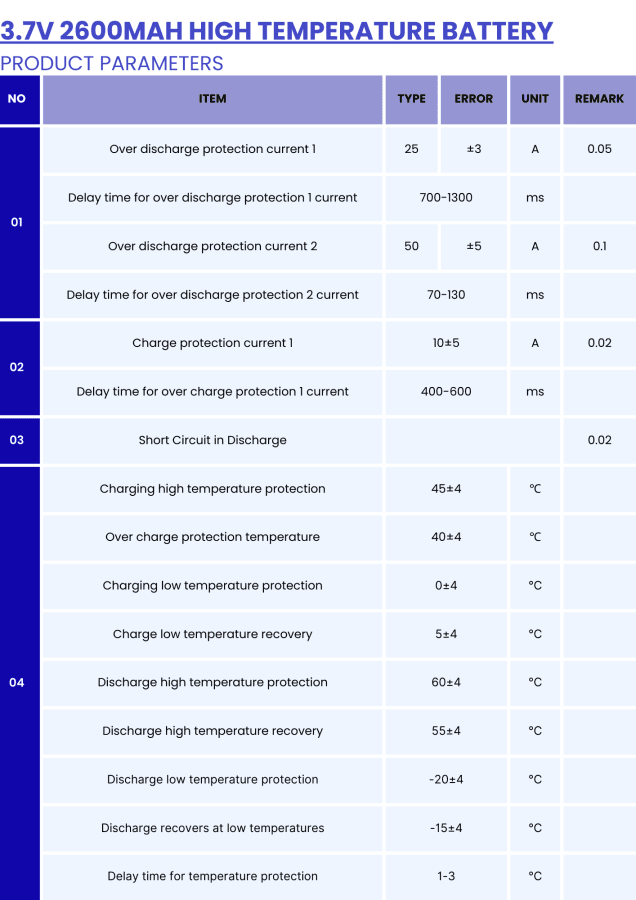 CMB's 3.7V high-temperature lithium batteries are available in three capacities.
18650 2000mAh 5C discharge current
18650 2600mAh 15A discharge current
18650 3200mAh 15A discharge current
CMB uses the most advanced high-temperature battery technology and is designed for applications in specialized environments. 
Our high-temperature rechargeable batteries are able to satisfy the need for their safety, puncture-proof, explosion-proof, water-proof, and fire-resistant characteristics, thus ensuring stable and long-lasting performance.
CMB's high temperature batteries have a charge temperature range of -20°C to 60°C and a discharge temperature range of -40°C to 85°C.
Our high temperature lithium batteries can operate at 85 °C for 1,000 hours, while other typical lithium batteries would die or fail to work at that temperature. Even when CMB's high-temperature lithium batteries are operated at 85°C for 1,500 hours, they can still hold a 95% charge capacity.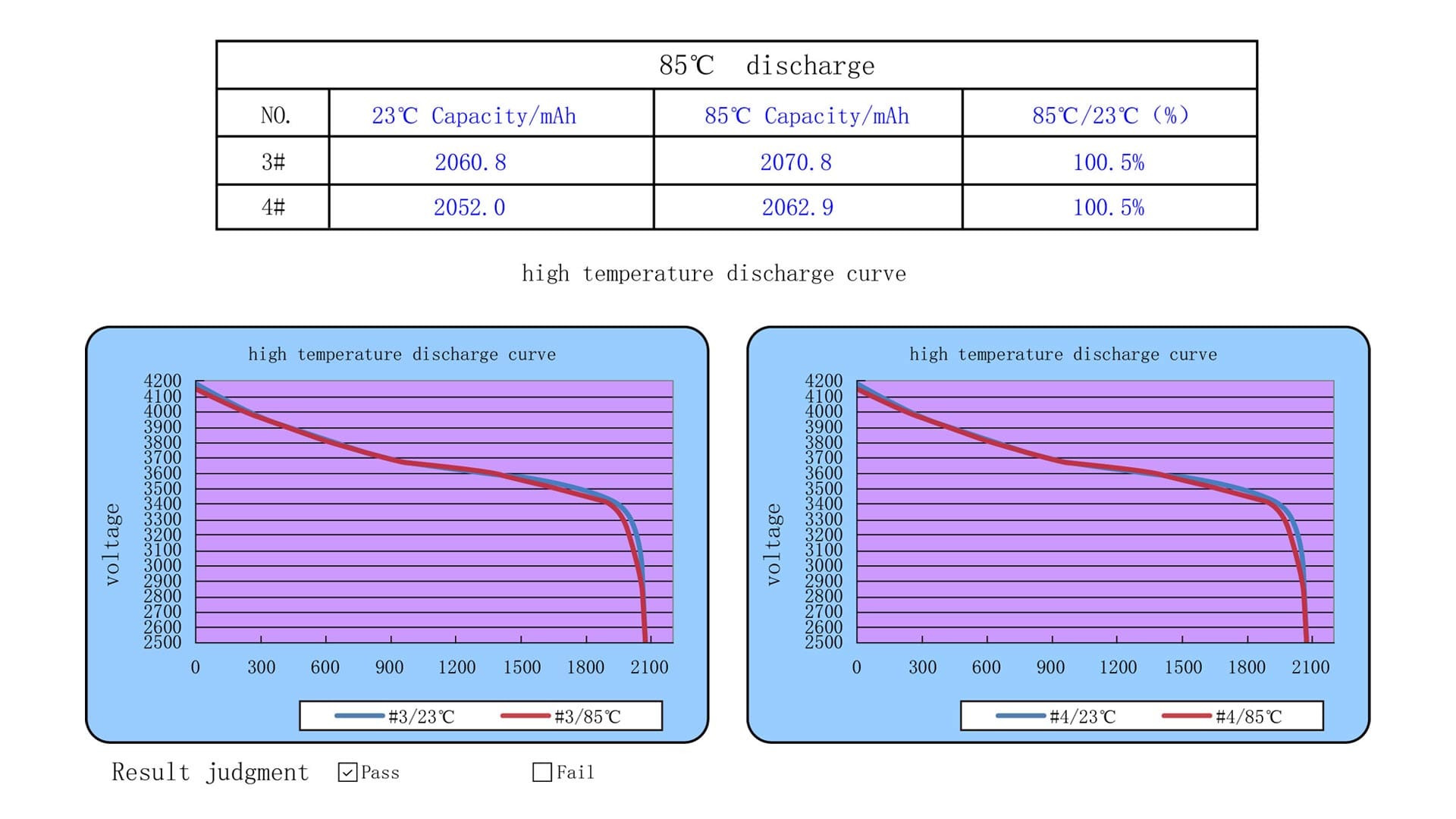 3.7V 2600mAh 18650 Battery Product Parameters Download
CMB is a professional high-temperature battery manufacturer. We have a team of experienced engineers who can customize batteries to meet your specific requirements. We also offer a wide range of services including battery testing, battery design, and battery assembly. If you need to contact.
More Technical Articles On High Temperature Batteries:
High Temperature Rechargeable Lithium Battery Pack FAQ
What size are your high temperature batteries ?
We can design the high tempearture batteries with all shapes,sizes and functions to meet your needs.
Is the operating temperature at +85°C ?
Of course.If your operating temperature is over +85°C ,our CTO evaluate the high temperature batteries solution to meet your needs.
Are your high temperature batteries rechargeable ?
Yes,our high temperature batteries is Li-ion and it is rechargeable battery.
How long is your production/delivery lead time for your high temperature battery packs?
For battery samples, if we have the desired battery or a compatible LiPo battery in stock, the delivery time is generally 4-7 days. If we don't have the desired battery in stock, we require 2-3 weeks for production. Mass production generally takes 30 days (without stock). If there are enough batteries in stock, it will take about 1-2 weeks to fulfill an order.
Tailored Customization
Our design team can create custom battery designs for just about any device or machine.
Timely Delivery
Our efficient production and distribution process gets your product delivered in a timely manner.
Quality Guarantee
We stand by our products and guarantee you'll be happy with your purchase.