Electric Surfboard Battery Packs
CM Batteries are developing and manufacturing li-ion battery pack solution for electric surfboards.CMB can design and manufacture your custom battery packs solution with the standard battery pack and smart li ion battery pack for Electric Surfboard applications.
CMB CTO focuses on solving the problem of the high temperature of the battery cell when the efoil battery is continuously discharged at a high rate to ensure the health of the electric surfboards battery and prolong its life. That's where CM Batteries comes into play.
For the past 5 years, CM Batteries has been developing and manufacturing custom lithium-ion battery packs designed specifically for eFoil use. Our battery packs feature our own 4.0 Battery Management System design and can be customized to suit your electric surfboard's precise specifications.
In addition to standard BMS, CMB offers Smart BMS for optimal battery monitoring and protection.
CMB battery packs prevent overheating commonly associated with eFoil batteries continuously discharged at high rates, thus prolonging battery life. Our Chief Technology Officer (CTO) has obtained a patent for our battery's ability to reduce battery temperature while working in high peak discharge currents.
Our light-weight case designs and connectors have a waterproof rating of IP68 to ensure safe use in the water.
43.2V 35Ah eFoil Battery Pack
Features :
Sunpower INR18650-25R cell
Customized bracket and nickel strip
Smart battery management system
IP68 waterproof connector and support for 70A continuous discharge current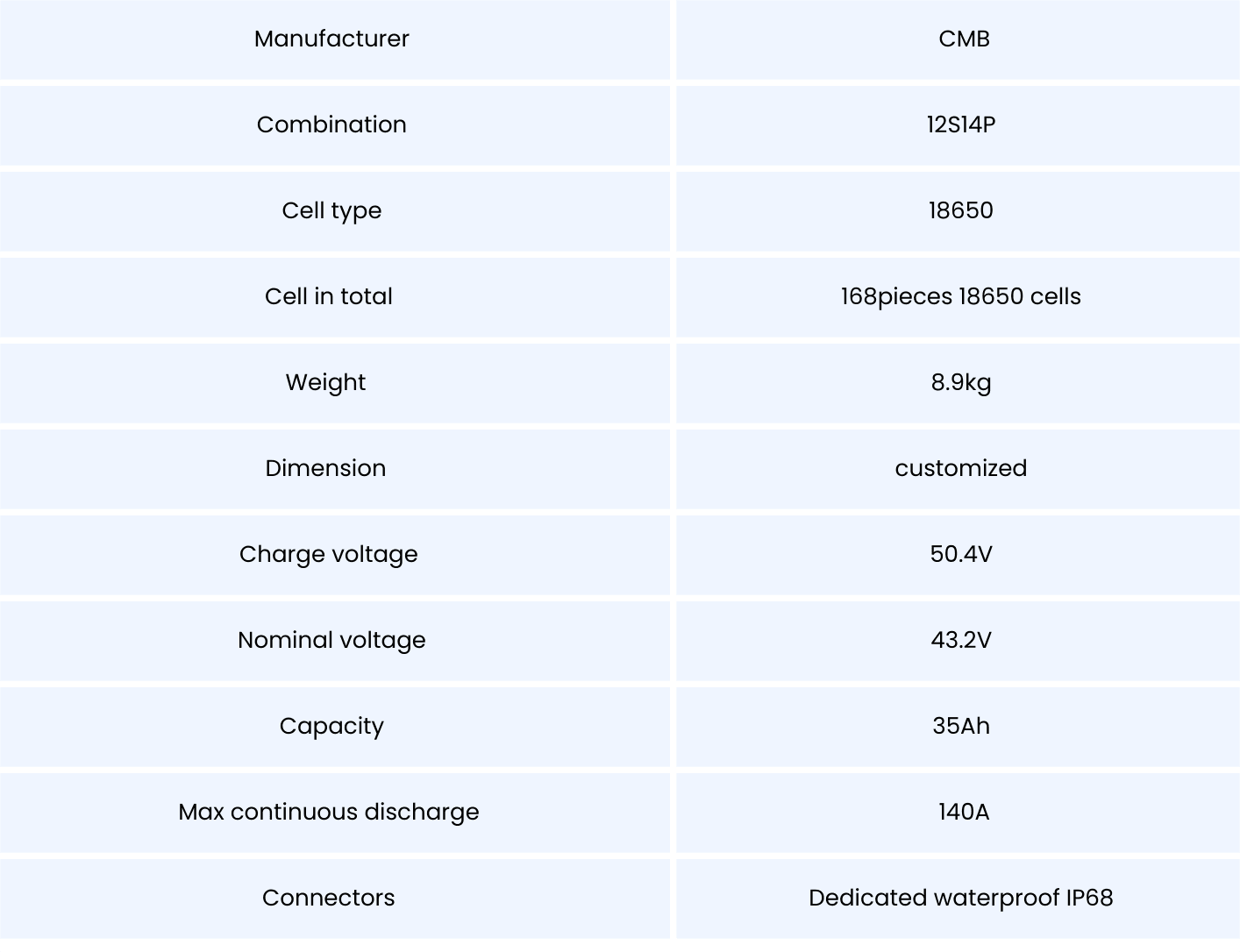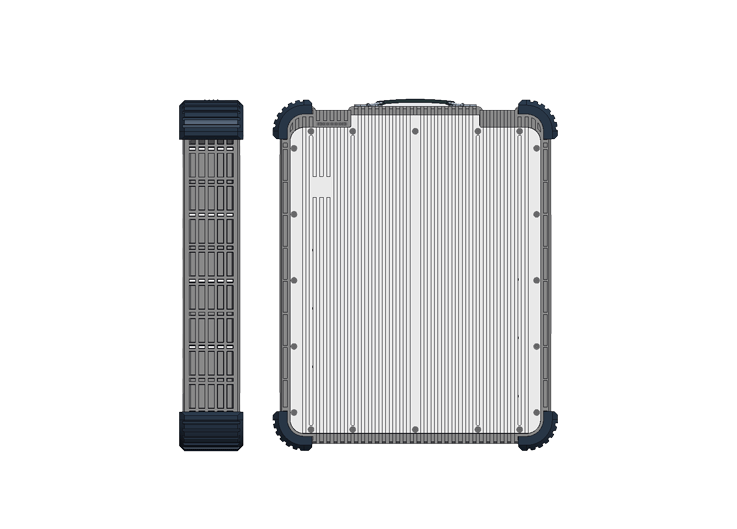 50.4V 40Ah 14S10P eFoil Battery Pack
Features:
Samsung INR21700-40T cell
Heat dissipation for high discharge current
Pre-discharge function with the special BMS management strategy
Waterproof level: IP68
Protection: over-discharge, overcharge, over-current, and short circuit protection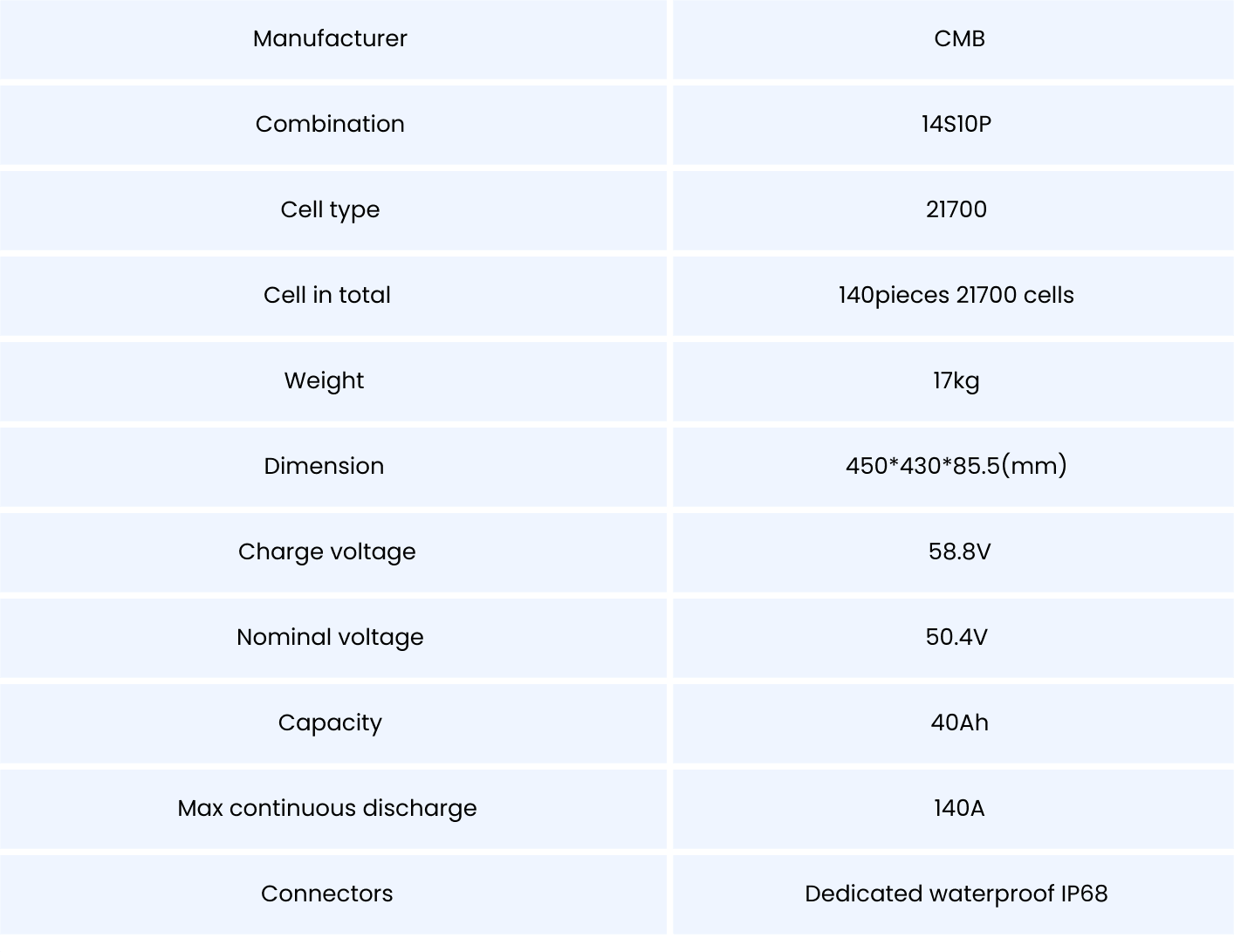 Electr Surfboards Batteries FAQ
What voltage do you recommend for electric surfboard batteries?
Recommended voltages for electric surfboard batteries range from 36V to 58.8V. A higher voltage provides more power to your electric surfboard. Please consult with your dedicated CMB advisor to determine the best voltage for your electric surfboard's battery pack.
How long will a charged CM electric surfboard battery run for before having to be recharged?
A number of factors influence how long a custom battery pack will run for in an electric surfboard, including battery capacity and engine wattage. When designing your electric surfboard, confirm the specifications of your custom battery pack first to ensure enough space is provided in the electric surfboard's design for optimal battery performance and safety.
What is the timeline for designing and manufacturing a custom battery pack for an electric surfboard?
Every custom battery pack is uniquely designed and manufactured to suit the needs of the specific electric surfboard it will be giving power to. A standard development and production timeline is below for general reference, but times may vary.
Battery pack design confirmation: 7 business days
Prototype production: 15 business days
Prototype shipment: 4-6 business days
Open mold for battery case: 4-5 weeks
Bulk manufacturing: 25-30 business days
Certificates approval: 25-90 business days
What types of Battery Management Systems (BMS) does CM offer for electric surfboard batteries?
Our electric surfboard batteries include BMS's with overcharge protection, over-discharge protection, and short circuit protection. We also offer Smart BMS options by incorporating UART or CANBUS communication protocols into the BMS design. Smart BMS's ensure the battery is operating in the safest and most optimal manner, and may also prolong battery life.
What is the Development time for your Electric Surfboard Battery Pack?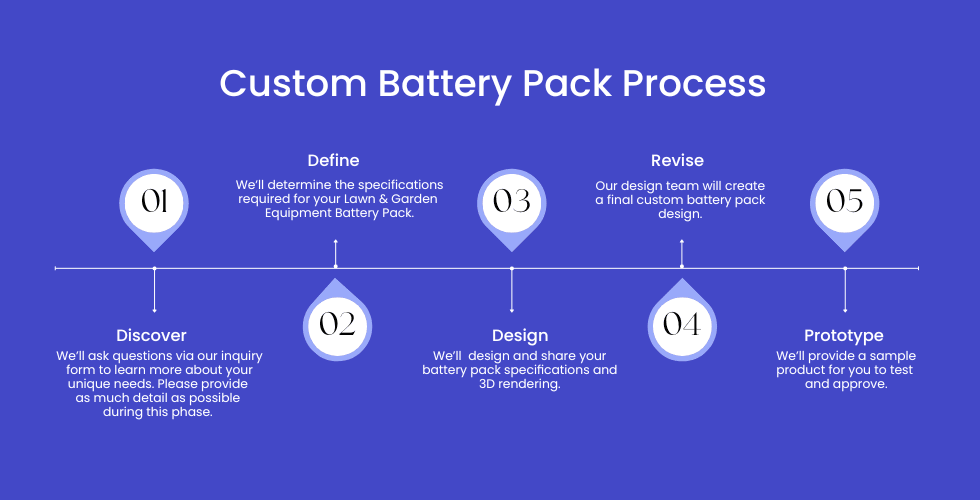 Do electric surfboard batteries need to be waterproof?
Whether or not a battery's casing needs to be waterproof depends on the design of the specific electric surfboard it's providing power to. Some of our customers do not require a waterproof battery pack because the design of their surfboard is waterproof and ensures the battery's protection from the elements. That being said, the recommended choice for optimal safety and battery longevity is to go with a battery case design with a waterproof rating of IP68, which CM offers.
How do I obtain the specs for my CMB custom battery pack?
CM Batteries has designed battery packs for the electric surfboard for international efoil company. Once your OEM electric surfboard battery design is completed, your design consultant will release the specific eFoil battery specs to you.
Tailored Customization
Our design team can create custom battery designs for just about any device or machine.
Timely Delivery
Our efficient production and distribution process gets your product delivered in a timely manner.
Quality Guarantee
We stand by our products and guarantee you'll be happy with your purchase.