Lawn & Garden Equipment Battery Packs
CMB pays attention to the research and development of lawn and garden battery. A wide array of lawn and garden equipment that were once powered solely by gasoline have been evolving over the years, and CM Batteries is here for that evolution. We manufacture custom-designed rechargeable batteries for all types of outdoor equipment, so more people can tend to their landscapes without polluting them in the process.
The outdoor machinery we can craft custom rechargeable batteries for include but are not limited to:
Push lawn mowers
Riding lawn mowers
Robotic lawn mowers
Tractors
Snow blowers
To accommodate the specific power requirements for an array of different types of equipment, we offer a variety of lawn & garden batteries options, including:
12V lithium-ion battery pack
24V lithium-ion battery pack
36V lithium-ion battery pack
Custom 18650 battery pack
Custom 21700 battery pack
[/vc_column_text][/vc_column_inner][/vc_row_inner]

[/vc_column][/vc_row]

Lawn & Garden Equipment Batteries FAQ
What battery cell brands and models do you recommend for lawn and garden equipment battery packs?
For these applications, we recommend Molicel 18650P26A, 18650P28A, 21700P42A, 21700P45A, and Sunpower 25R.
Are there any common issues encountered when using these types of lithium-ion batteries for lawn and garden tractors?
When lithium-ion batteries are left discarded or unused for six months or longer, the battery's charge may drop to zero, which can damage the battery and affect its ability to charge or discharge properly. As lawn and garden equipment are often used seasonally, this may pose a concern for some. However, there is a remedy for this situation.
We recommend adding a Smart BMS (Battery Management System) to your custom battery pack design. With Smart BMS, an LED display allows you to easily read your battery's voltage and capacity. The Smart BMS gives a warning when it reads a 20% battery charge level and will enter a deep sleep mode to prevent unnecessary draining of or damage to the battery. When the equipment needs to be used again, simply charging the battery for a solid amount of time will "wake up" the battery from its deep sleep mode.
What makes these battery packs good for lawn and garden equipment use?
CMB's custom battery packs for lawn and garden equipment are sturdy and can handle the rough and tumble aspects that come with working in the great outdoors. Our tough battery pack cases can survive drops, and nickel sheets ensure the stability of the battery pack's cells.
What is the development and production process like for a custom battery pack for lawn and garden equipment use?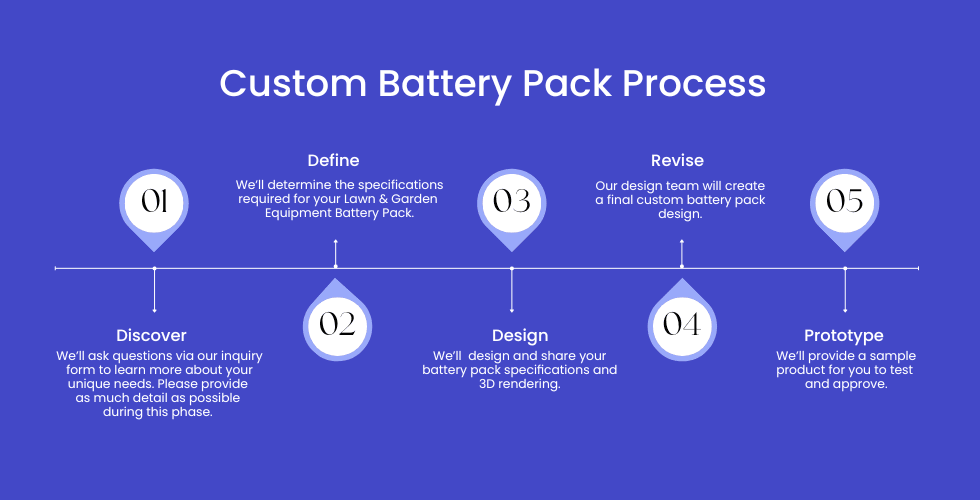 How long should I charge my lithium-ion battery pack?
Battery packs made with a standard BMS should be charged every three months to ensure a proper base level charge. For battery packs that have a Smart BMS, it's best to check the charge levels on the LED display to gauge when the battery needs to be charged.
Tailored Customization
Our design team can create custom battery designs for just about any device or machine.
Timely Delivery
Our efficient production and distribution process gets your product delivered in a timely manner.
Quality Guarantee
We stand by our products and guarantee you'll be happy with your purchase.