Electric Bike Battery Packs
CMB is uniquely qualified to design electric bike battery packs. Working with CM Batteries, you can get standard lithium batteries for e-bike and custom electric bike battery packs. We're a battery pack technology pioneer. We can contain BMS design, e-bike battery pack case design, and battery pack assembly while keeping you with reliable and long lasting quality.
CMB's Qualifications of Electric Bike Battery Pack
We provide custom electric bike lithium battery design and manufacturing services.
We work closely with customers from the initial design concept, through prototyping and testing, to large-scale manufacturing from our facilities in China.
Our high-quality, long-lasting smart electric bike battery not only has a high energy density and compact size, but it is also lightweight for convenient use and transport.
CMB is an industry leader in the engineering and manufacturing of electric bike lithium-ion battery.
Being ISO 9001:2015 certified ensures our battery packs are consistently manufactured to high standards and rigorously tested to surpass your expectations.
Our PE engineers modify our battery processes in a timely manner, and electric bike lithium battery samples are thoroughly inspected 100% of the time.
CMB updates its e-bike battery brochure every year with the latest models and upgrades. Download it below for more information.
CMB E-bike Battery Product Brochure 2023 Download
CMB's Charge On Program for Electric Bike Battery Packs Application
CMB are devoted to boost the energy. CM Batteries invites us to make the communities better. You can join CMB's Charge On program. Let us thrive together and provide the help the disabled soldiers and poor children.
Also, learn about our Charge Again Program. We're establishing battery recycling facilities in the US, Canada, France, Japan, and Germany.
Start now, our customers will be able to return their used CMB batteries for recycling and in return, receive a fantastic 10% discount on their future purchases!
Check our blog, you can learn about Electric Bike Batteries Explained, how to store ebike batteries to avoid battery fire, and how we provide repair and replacement services. Contact us for more details.
36V E-Bike Battery
CMB offers 36V lithium batteries for e-bikes with different capacity ranges and battery cases. The 10-20Ah electric bike battery pack 36V is suitable for motors with 500 to 1000 watts, Our CTO has the below recommendations:
For 250W-500W Motor: 36V 10Ah electric e-bike battery

For 500W-750W Motor: 36V 20Ah electric e-bike battery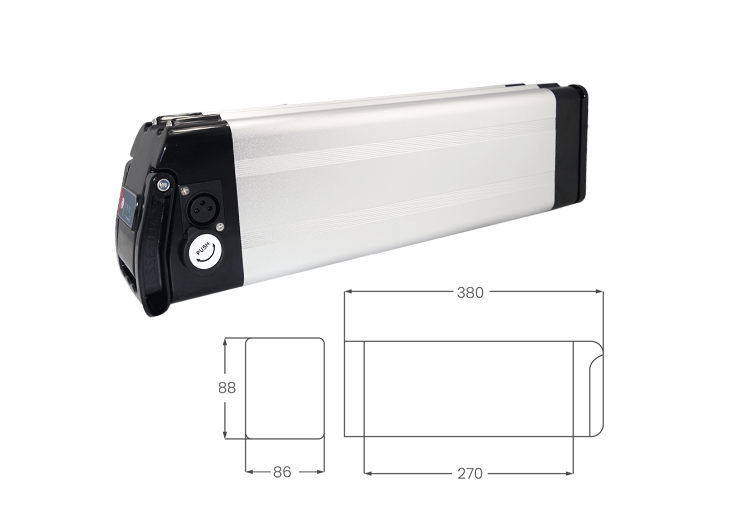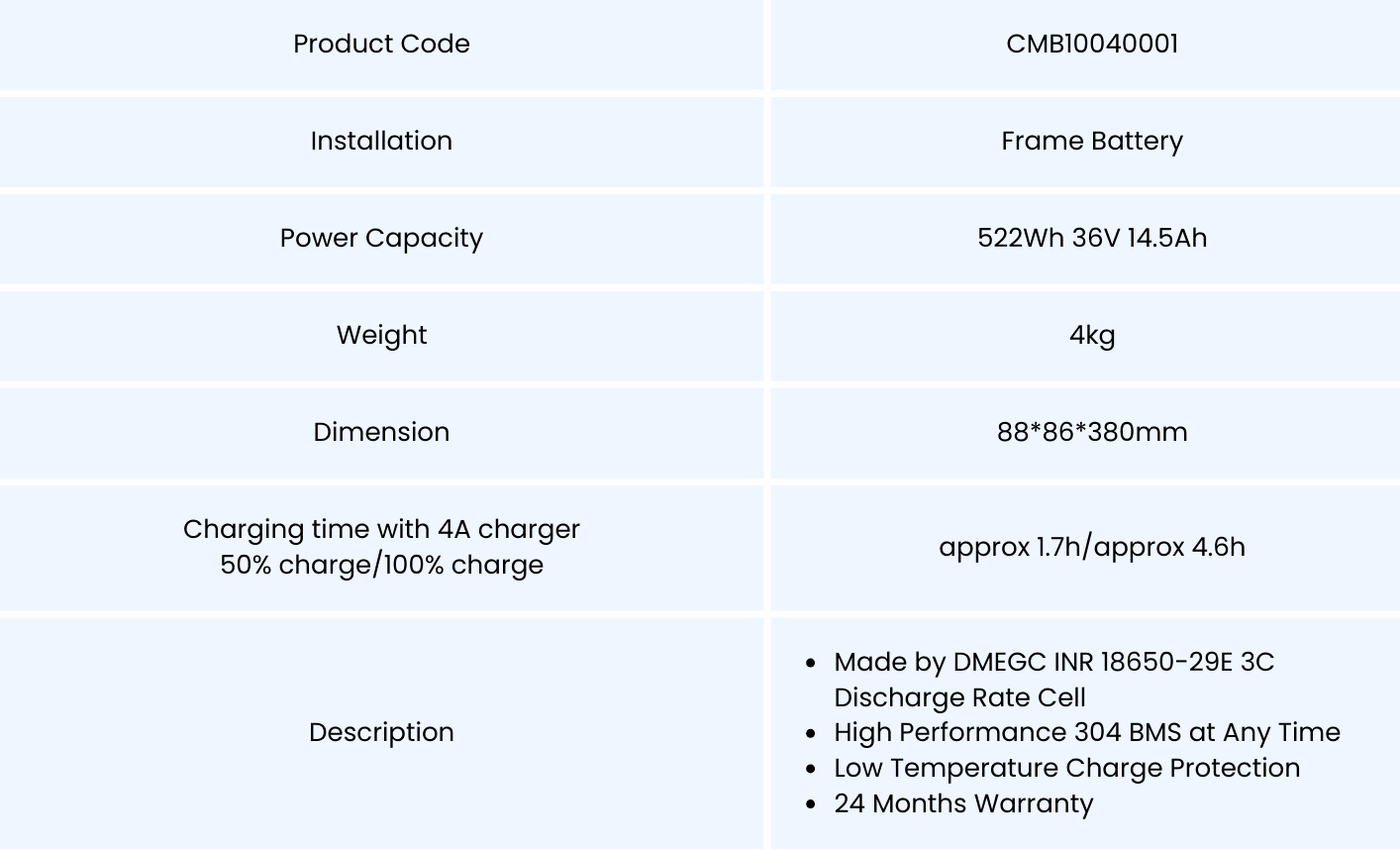 48V E-Bike Battery
The 48 Volt battery for e-bikes are used to power mountain and heavy cargo e-bikes due to their higher power and current. We can manufacture e-bike lithium ion battery in the following types: rear, downtube, and integrated. All of these offer 1000 charge cycles.
Our CTO will be in close contact to assure the successful installation of electric bicycle battery and provide maintenance services when needed. He makes the below recommendations: 
For 500W-750W Motor: 48V 10Ah electric bicycle battery pack

For 750W-1000W Motor: 48V 20Ah li-ion electric bicycle battery pack

For 1500W Motor: 48V 30Ah li-ion electric bicycle battery pack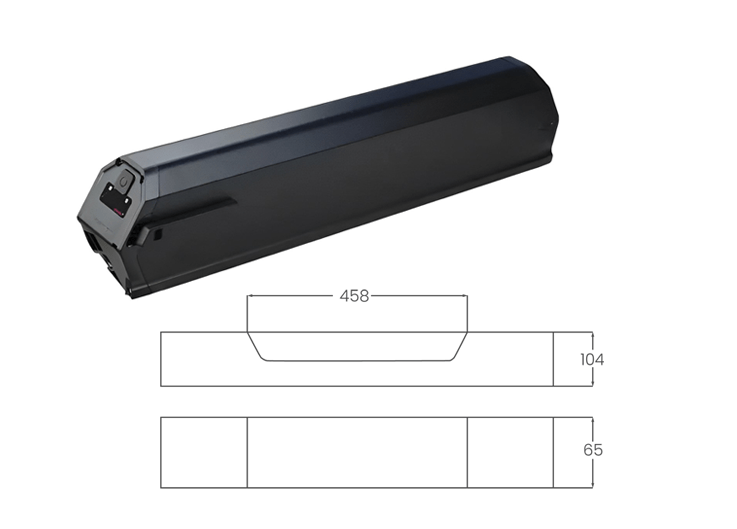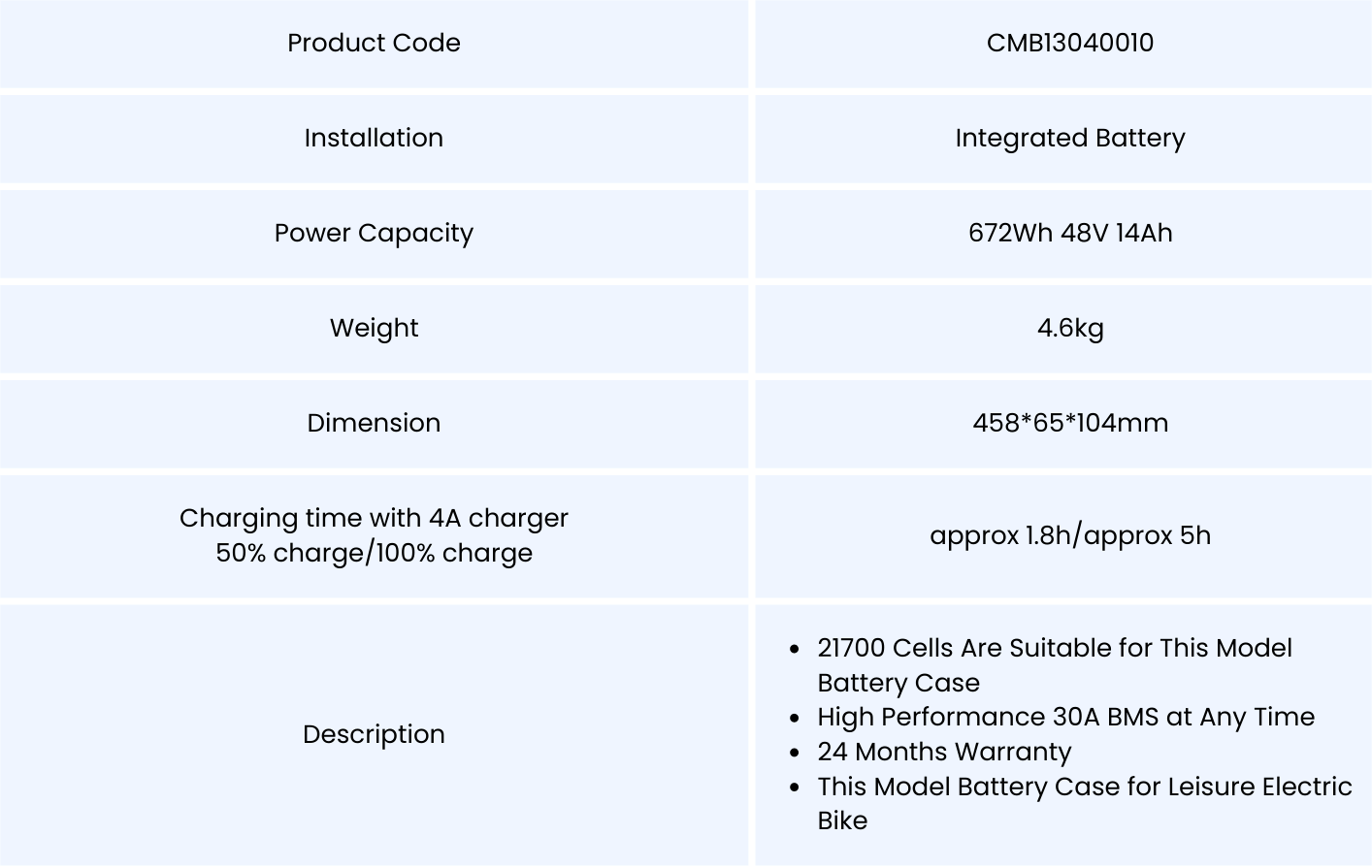 52V E-Bike Battery
CMB's 52V e-bike battery has higher power to support longer mileage. This 52 Volt lithium ion battery for bike can support a 1000W motor and sustain 1000 charge cycles, meaning you can depend on it for long trips with proper care.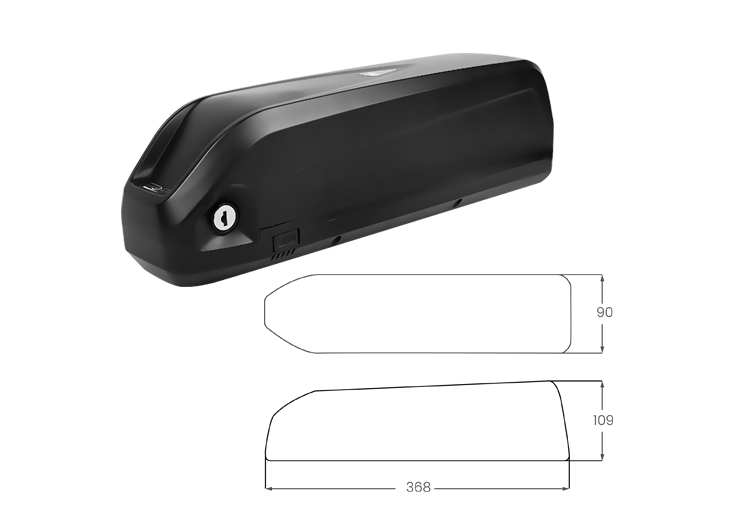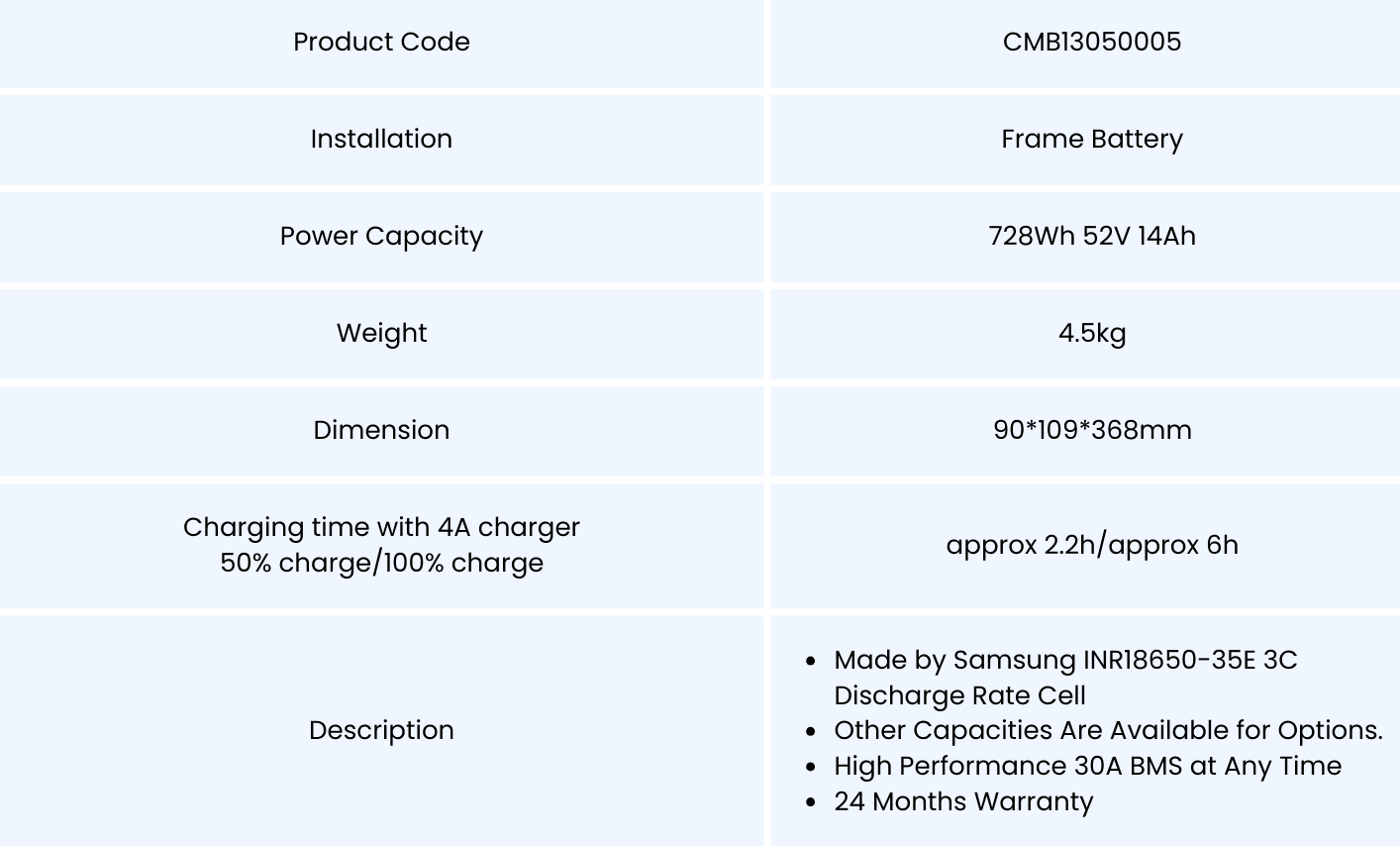 Custom Electric E-bike Battery
At CM Batteries, our engineering team has excellent experience in developing custom ebikebatteries. We offer:
E-bike li ion battery case, providing 3D drawings for your custom e-bike rechargeable battery's needs. Once we discover your lithium battery for e-bike request, we take 7 working days to provide the 3D battery case drawing.

Custom battery management system (BMS) designed to suit each battery type.

Custom electric bike battery pack case within 45-60 days.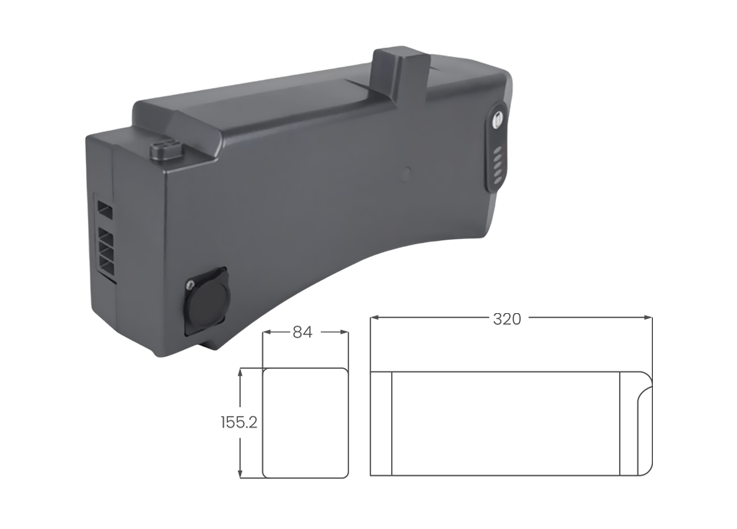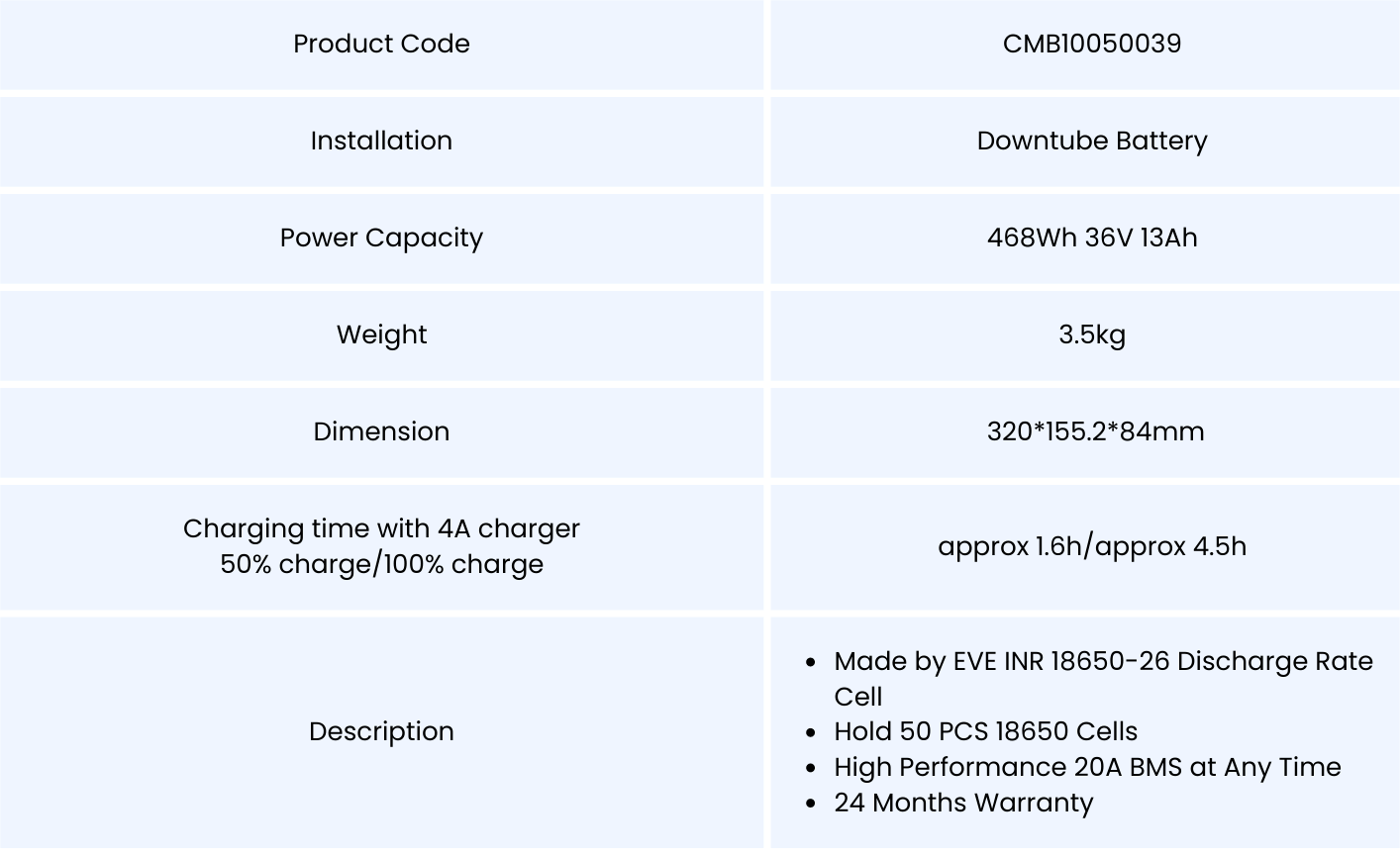 Electric Bike Batteries FAQ
What are the advantages of choosing CMB's e-bike batteries?
At CMB, we take pride in our commitment to producing high-quality e-bike batteries, and we use strict quality control processes and advanced testing techniques to ensure that our batteries are safe, reliable, and performant. CMB's high-quality, long-lasting e-bike batteries not only have a high energy density and compact size, they are also lightweight for convenient use and transport. CMB believes in environmental protection and energy conservation, so our goal is to provide our customers with the most affordable and high-performance e-bike batteries.
What quality checks and certifications does CMB have for manufacturing e-bike batteries?
We are outfitted with IEC62133, UN38.3, ISO 9001:2015, CE, and UL 2054 certifications.
How do I care for my CMB e-bike battery?
Charge once a week, and avoid charging to 100% in order to enhance the overall capacity of the battery. You should also avoid fully discharging. Charge your battery when it is between 25-50%.
How long does it take to charge an e-bike battery?
Charge time varies depending on the battery type, the combination of cells, voltage, and energy charge.
What factors impact the life of an eclectic bike battery?
The following factors can influence the lifespan of an e-bike battery: the use of the right gear at the right time, the weight of the rider and any extra cargo, terrain conditions, frequent stops, tire pressure, air dynamics, weather, and the e-bike's motor.
What shipping methods does CMB offer?
Please reach out to a representative to determine the best shipping method for you. If you have a freight forwarder, we can provide you with EXW rates. If you'd like to pick up your order at the nearest port, we can offer FOB rates. If you want your order delivered to your doorstep, you can opt for the DDP rate.
Does CMB offer e-bike lithium-ion battery bags?
Yes, CMB can provide bags for your e-bike lithium-ion batteries, but we do have an MOQ for this request. Please reach out to a representative to learn more.
What types of e-bike battery chargers does CMB provide?
CMB can provide 42V/54.6V/58.8V lithium battery chargers.
Tailored Customization
Our design team can create custom battery designs for just about any device or machine.
Timely Delivery
Our efficient production and distribution process gets your product delivered in a timely manner.
Quality Guarantee
We stand by our products and guarantee you'll be happy with your purchase.