CMB's 36V e-bike batteries provide high quality and reliable power to the electric bikes they are crafted for, helping e-bike designers create a quality electric bike product from the inside out. As a leading 36V e-bike battery manufacturer, all of our e-bike battery pack 36V is designed by CMB's senior engineers, who have more than 5 years of experience crafting e-bike batteries.
The Components of CMB's 36 Volt Ebike Battery Packs
Cells: Choice of 18650 or 21700 battery cells. The high-performing cell models we offer include 3.7V 18650 2900mAh, 3.7V 18650 3500mAh, and 3.7V 21700 5000mAh.
BMS: Our engineering team designs unique battery management systems (BMS) for each 36V lithium battery for e-bike. All BMS designs include temperature protection for discharge and charge.
Housing: CMB offers standard and custom-designed battery cases to meet the exact specifications of our customers. The two popular materials used for battery housing are ABS+PC and carbon fiber.
| | | | | | |
| --- | --- | --- | --- | --- | --- |
| Voltage | 36V | 36V | 36V | 36V | 36V |
| Power (W) | 250W | 350W | 500W | 500-750W | 750-1000W |
| Cell chemistry | 10S3P | 10S3P | 10S6P | 10S7P | 10S4P |
| Configuration | Samsung 29E 18650 2900mAh | Samsung 35E 18650 3500mAh | 18650 2500mAh | 18650 2900mAh | Samsung 50E 21700 5000mAh |
| Solution | 36V 8.7Ah e-bike battery pack | 36V 10.5Ah e-bike battery pack | 36V 15Ah e-bike battery pack | 36V 20Ah e-bike battery pack | 36V 20Ah e-bike battery pack |
Tests Performed for 36V Electric Bicycle Battery
Aging Test: Every 36V e-bike battery undergoes an aging test with the applicable discharge and charge current.
Vibration Test: Vibration tests last three hours and determine whether the spot welds between the batteries will loosen.
Constant Temperature and Humidity Test: Batteries can perform poorly and even pose hazards when operating in extreme temperatures. this test can provide suggestions for designing the best 36V e-bike battery.
The Benefits of Choosing CMB 36 Volt Lithium Battery
Lithium batteries are renowned for their powerful energy and are the first choice for the demands of electric bikes. If you're in the process of replacing your e-bike's aging lead-acid battery, CMB's 36V lithium battery for electric bikes offers a reliable and durable power source.
Durability: CMB's e-bike 36 Volt battery has a lifespan of 1000 cycles. The long ebike battery lifespan can reduce replacement costs down the line.
Compatibility: CMB is familiar with various types of e-bike motors, and our 36V lithium-ion battery for electric bikes matches a variety of e-bike and electric scooter models.
Savings: CMB CTO chooses a lighter and stronger case, which helps reduce transportation expenses. Lighter battery pack and balanced power output are ideal for urban commuting and off-road riding.
Safety: Our built-in BMS has high-temperature warning and overcharge protection, and the outer casing features an anti-shock design. We also guide each client on how to properly use and preserve their battery packs.
Custom 36V Lithium-Ion Battery for Electric Bike:
We offer many types of 36V 10Ah and 36V 20Ah e-bike batteries, but If you're in need of a custom-designed battery, our CTO can provide design solutions for you with A-grade battery cells. We offer high-quality and cost-effective Samsung 36V e-bike battery cells and Panasonic 36V e-bike battery cells.
Obtaining E-Bike Battery Certification
As an e-bike battery manufacturer with 15 years of experience, CMB has CE, IEC, RoHS, and UN38.3 certification as well as extensive experience in certificate registration. If your sales country requires additional certification, please contact us.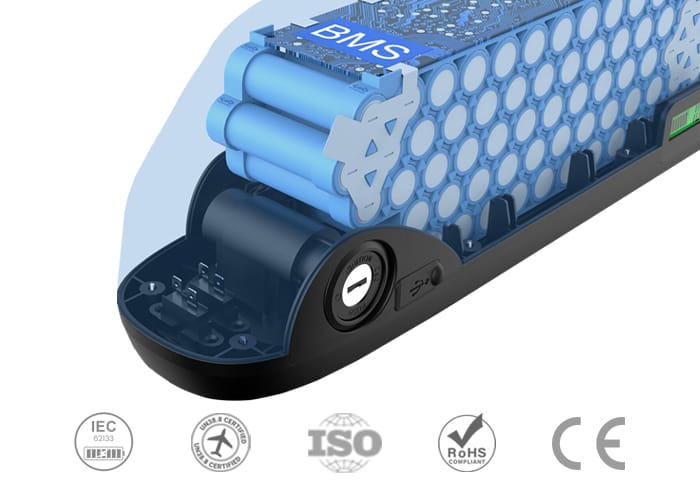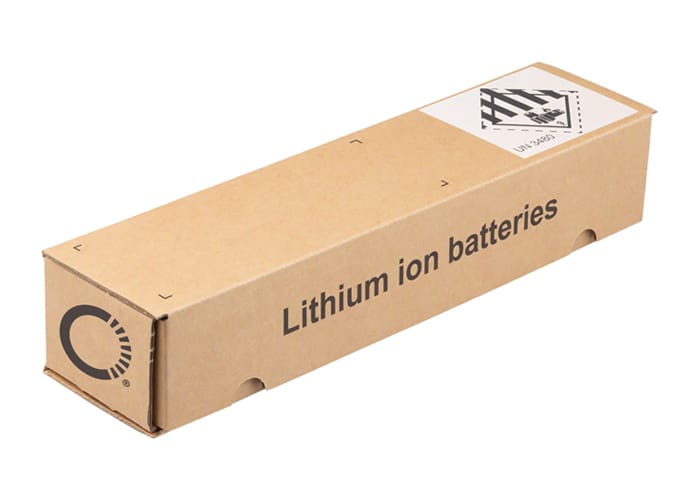 Sturdy Packaging Facilitates Successful Distribution
Without proper packaging, inevitable impacts during long-distance transportation and express delivery can affect the appearance of your electric bike battery pack 36V, and severe impacts can damage the batteries and cause fires. To resolve this concern, we've designed impact-resistant packaging to ensure product safety.
More Technical Articles On E-bike Batteries:
How long does a e-bike 36 Volt battery last?
CMB's high-quality e-bike batteries can last anywhere from 2 – 5 years. Our 36V e-bike batteries have more power than other models, so they are a great option for mountain e-bikes, long-distance e-bikes, and cargo e-bikes.
Should I leave my e-bike battery plugged in all the time?
No! Leave the (unplugged) battery on the bike for short-term storage and off the bike for long-term storage. Modern chargers are smart, and will not overcharge a battery, but leaving a battery plugged in can be harmful for other reasons: Charging a battery up to 100% takes much longer and is more stressful than the rest of the charge cycle.
What are better, 36 volt batteries or 48 volt batteries?
It depends on the intended use of the battery. A battery with a higher voltage would offer more power. A CMB 36V e-bike battery will allow you to draw a lesser critical current, typically around 15 amperes whereas, a CMB 48V e-bike battery will allow more current in the range of 10 – 40 amperes.
Can I replace a 36V battery with a 48V battery on an e-bike?
If the recommended voltage range of your e-bike ends in 36V (24-36V, for example), you'll want to avoid using a 48V battery. If it's 36-48V or higher, however, you should be fine to use a 48V battery. If your controller isn't listed as being compatible with 48V or higher setups, do NOT plug the battery in.
Can we use chargers from different manufacturers for our 36V e-bike battery?
It is not recommended to use chargers from different manufacturers since they were not designed with your battery's characteristics and features in mind. If you need to charge your battery pack with another charger, you must match the charger specs.
Check the charger's charge rate, voltage, ampere, and power output. You should keep an eye on the Battery management system while charging battery packs with alternative chargers to avoid overcharging and other problems.
What type of battery cell should I choose?
To enhance the quality of our e-bike batteries, we source cells from renowned global brands including Samsung, LG, Sony and Panasonic. These battery cell manufacturers are known for their quality and reliability.
If you choose a Samsung 36V electric bike battery, we offer two different types of batteries: 18650 and 21700. Their difference will be reflected in the capacity and size of the battery pack. In order to design the most suitable battery pack for your e-bike, our CTO will require the precise size and power of your bike.
Tailored Customization
Our design team can create custom battery designs for just about any device or machine.
Timely Delivery
Our efficient production and distribution process gets your product delivered in a timely manner.
Quality Guarantee
We stand by our products and guarantee you'll be happy with your purchase.