CMB 48V ebike battery employs advanced 18650 and 21700 battery technologies, which are lighter and more powerful, allowing your ebike to ride farther. Moreover, we manufacture a 48V electric bicycle battery with a durable cell shell, pure nickel strip, and waterproof glue, ensuring high crash resistance and waterproofing qualities.
As a leading 48 volt battery for electric bike factory, CMB's laboratory focuses on improving the energy of 48V battery pack for ebike and has won the trust of partners with high quality and low maintenance. We have obtained ISO9001:2015 certification, efficient production and extremely short production cycles make our battery packs highly cost-effective.
48V Battery Pack for Ebike
If you're looking for a custom lithium battery for your e-bike, our CTO can craft a unique 48V battery pack design using A-grade battery cells from Samsung, Panasonic, and LG.
Selecting a high-quality e-bike battery with accurate data calculation is vital in ensuring a positive user experience. If your business sells replacement e-bike batteries, we recommend choosing from the following popular 48V battery types. If your business is an e-bike supplier, please reach out with the details of your e-bike design and your required specifications, and our engineers would be happy to provide guidance and recommendations.
| | | | | | |
| --- | --- | --- | --- | --- | --- |
| Voltage | 48V | 48V | 48V | 48V | 48V |
| Power (W) | 500W | 500-750W | 750-1000W | 1000-1500W | 1000-1500W |
| Cell chemistry | 13S3P | 13S4P | 13S5P | 13S4P | 13S6P |
| Configuration | Samsung 35E 18650 3500mAh | LG MJ1 18650 3500mAh | Samsung 35E 18650 3500mAh | Samsung 50E 21700 5000mAh | Samsung 50E 21700 5000mAh |
| Solution | 48V 10.5Ah e-bike battery pack | 48V 14Ah e-bike battery pack | 48V 17.5Ah e-bike battery pack | 48V 20Ah e-bike battery pack | 48V 30Ah e-bike battery pack |
Why Choose CMB for Your 48 Volt Ebike Battery Packs Manufacturing?
Custom Solution: We will customize the 48V bike battery according to your requirements, from the protection plate (battery management system), and the battery case to the internal structure of the battery to meet your requirements for waterproofing and other functions.
Technical Expertise: Our technical team is very familiar with the popular 48 volt bike battery motors on the market. CMB CTO can give you professional advice and expert guidance on choosing the best power solution for your specific requirements in lithium battery technology.
Transparency: From design to production, to testing, to final shipment, we keep our customers up to speed on every step of the battery designing and manufacturing process.
Safety: Our built-in BMS has high-temperature warning and overcharge protection, and the outer casing features an anti-shock design. We also guide each client on how to use and preserve their battery packs properly.
After-Sale Service: We offer comprehensive after-sales service, including local repair services for all CMB batteries. With our commitment to customer satisfaction, you can be confident that your products will receive expert care and attention long after the delivery process.
Tests Performed for 48V lithium-ion battery for electric bike
Aging Test: Every 48 volt lithium ion battery for electric bike undergoes an aging test with the applicable discharge and charge current.
Vibration Test: Vibration tests last three hours and determine whether the spot welds between the batteries will loosen.
Constant Temperature and Humidity Test: Batteries can perform poorly and even pose hazards when operating in extreme temperatures. This test helps determine whether a battery is equipped for such conditions.
Getting Your Ebike Battery Certification
As an ebike battery builder with 15 years of experience, CMB has certificates of CE, IEC, Rohs, and UN38.3 as well as rich experience supporting to get other certificates, if your markets need other certificates, please contact us.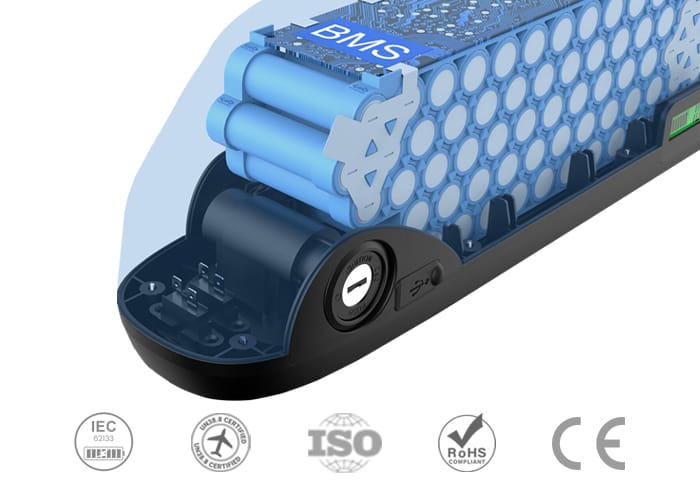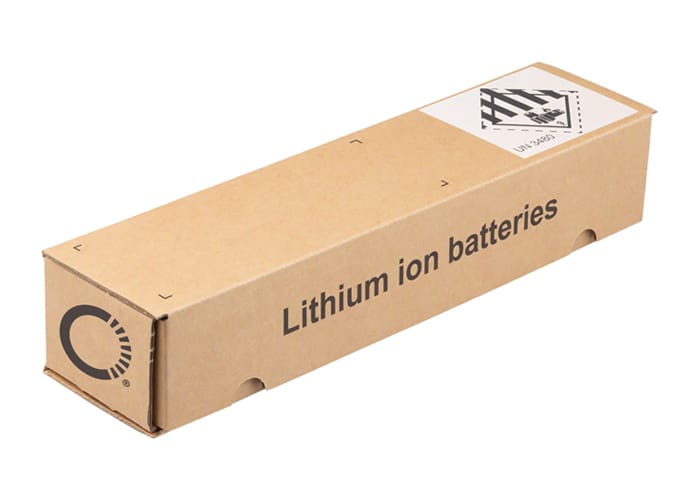 Sturdy Packaging Facilitates Successful Distribution
Without proper packaging, inevitable impacts during long-distance transportation and express delivery can affect the appearance of your 48 volt lithium battery for ebike, and severe impacts can damage the batteries and cause fires. To resolve this concern, we've designed impact-resistant packaging to ensure product safety.
More Technical Articles On E-bike Batteries:
Is there a standardized 48V lithium battery for e-bikes?
There is no uniform standard for 48V lithium batteries. CMB's professional engineers customize these batteries to ensure they are compatible with each client's unique products.
What are better for e-bikes, lead-acid batteries or lithium batteries?
Lithium batteries are a wiser choice for e-bike applications because of the below key reasons.
Longer range: Lithium batteries can provide electric bikes with a longer range than lead-acid batteries, which is important for riders traveling long distances.
Lighter weight: Lithium batteries are lighter than lead-acid batteries, which can improve the performance of electric bikes and provide a more convenient user experience for riders.
Faster charging: Lithium batteries can be charged more quickly than lead-acid batteries, which is convenient for riders who need to recharge their batteries on the go.
How long do 48 volt lithium battery for ebike last?
If taken care of properly, you can expect a battery to last between 3 and 5 years. (Even if not used, a lithium-ion battery will lose its capacity over time.)
How well do 48V e-bike batteries perform in extreme temperatures?
CMB's e-bike batteries perform well in temperatures above room temperature. In extreme temperatures, CMB's batteries perform better than other batteries in regard to efficiency. Although our 48V e-bike batteries have protection from high temperatures, we advise e-bikes to be kept at or around room temperature, as exposing battery packs to high temperatures on an ongoing basis can damage battery cells.
What experience does CMB have manufacturing 48V e-bike batteries?
For more than 10 years, CMB has been manufacturing custom high-performance e-bike batteries for clients all over the world. Our e-bike battery packs contain useful correspondences including UART, CANBUS, Ethernet, and Bluetooth.
Tailored Customization
Our design team can create custom battery designs for just about any device or machine.
Timely Delivery
Our efficient production and distribution process gets your product delivered in a timely manner.
Quality Guarantee
We stand by our products and guarantee you'll be happy with your purchase.