CMB crafts high-capacity and high-power Grade-A cells from trusted brands Samsung, Panasonic, and LG, renowned leaders in the lithium-ion battery industry. Our batteries employ advanced 18650 and 21700 battery technologies. Moreover, we manufacture 52V ebike battery with a durable cell shell, pure nickel strip, and waterproof glue, ensuring high crash resistance and waterproofing qualities.
As a leading 52 volt ebike battery pack factory, the CMB team is devoted to developing custom electric bike battery pack solutions for various electric bicycle types. With our ISO9001:2015 quality management system standards, we ensure the highest quality standards in the industry. Choosing a reliable and long-lasting 52V e-bike battery manufacturer is crucial for the success of your business. Our priority is not to cut costs and maximize profit, but rather to prioritize your safety by focusing on the quality and reliability of our batteries.
52V Electric Bike Battery Pack
Maximize the power and performance of your electric bike with our custom 52V Lithium-Ion Battery. Our CTO recommends specific battery pack options for different wattage requirements, ensuring an optimal riding experience.
Whether you're a replacement e-bike battery seller or an e-bike supplier, our team of engineers is ready to provide expert guidance and recommendations tailored to your needs
| | | | | | |
| --- | --- | --- | --- | --- | --- |
| Voltage | 52V | 52V | 52V | 48V | 48V |
| Power (W) | 500-1000 | 1000 | 1000 | 1500 | 1500 |
| Cell chemistry | Samsung 35E or Panasonic GA 3500mAh | Samsung INR21700-50E 5000mAh | Samsung 35E 18650 3500mAh | Samsung INR21700-50E 5000mAh | LG INR21700-50E 5000mA |
| Configuration | 14S4P | 14S4P | 14S6P | 14S6P | 14S8P |
| Solution | 52V 14Ah e-bike battery pack | 52V 20Ah e-bike battery pack | 52V 21Ah  e-bike battery pack | 48V 30Ah e-bike battery pack | 48V 40Ah e-bike battery pack |
Why Choose CMB for Your 52V Ebike Battery Manufacturing?
Custom Solution: We will customize the 52V ebike battery pack according to your requirements, from the protection plate (battery management system), and the battery case to the internal structure of the battery to meet your requirements for waterproofing and other functions.
Technical Expertise: Our technical team is very familiar with the popular 52V e-bike battery motors on the market. Our CTOs can give you professional advice and expert guidance on choosing the best power solution for your specific requirements in lithium battery technology.
Transparency: From design to production, to testing, to final shipment, we keep our customers up to speed on every step of the battery designing and manufacturing process.
After-Sale Service: We offer comprehensive after-sales service, including local repair services for all CMB batteries. With our commitment to customer satisfaction, you can be confident that your products will receive expert care and attention long after the delivery process.
Getting Your Ebike Battery Certification
As an ebike battery builder with 15 years of experience, CMB has certificates of CE, IEC, Rohs, and UN38.3 as well as rich experience supporting to get other certificates, if your markets need other certificates, please contact us.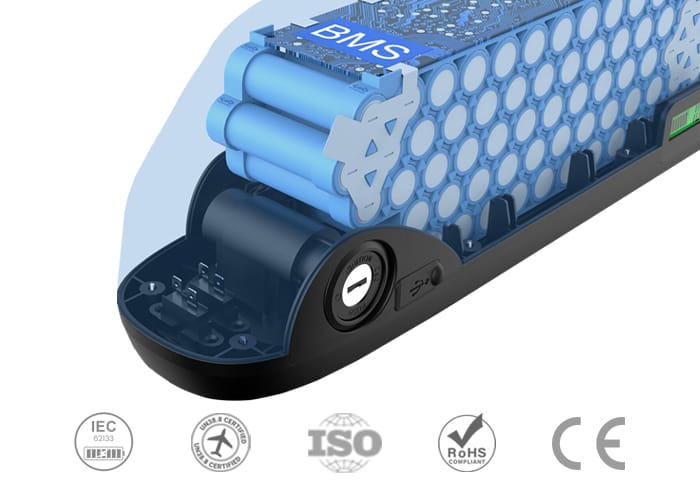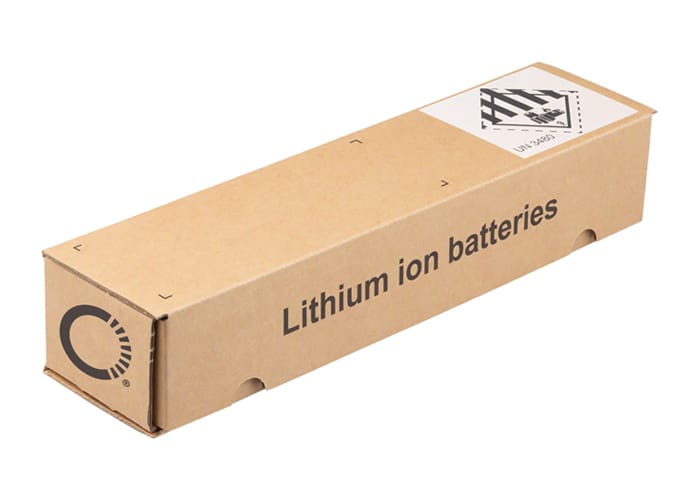 Sturdy Packaging Facilitates Distribution
During long-distance transportation and express delivery, inevitable impacts will damage the appearance of the electric bike battery pack, and severe impacts will damage the batteries and cause fires, so we design impact-resistant packaging boxes to ensure product safety.
More Technical Articles On E-bike Batteries:
When should I throw away my used 52V e-bike battery?
A battery's lifespan is dependent on a variety of factors including whether it is being properly used and maintained. Our 52V e-bike batteries have a charge cycle capacity of 600, which is rather powerful for such a high-voltage battery. If the battery is correctly used, stored, and maintained, it will last approximately 2.5 years. We recommend shops charge their 52V e-bike battery packs every 30-40 days at the least to ensure the battery's longevity. We recommend that shops charge their 52V eBike battery packs every 30-40 days at the absolute least.
What is the MOQ for CMB's 52V e-bike batteries?
We do not set specific minimum order quantities, but we prefer to work with customers who buy battery packs in large quantities. Our prices are more competitive than other suppliers in the market, and we also offer generous discounts for larger quantities. If you have any questions, please feel free to contact us.
Can a 52V e-bike battery be charged with a 48V charger?
No, 52V e-bike batteries cannot be charged with a 48V charger. If you use a 48V charger to charge a 52V battery, it will cause the battery to overcharge, which may result in battery damage or explosion.
For safety reasons, use a charger that matches the voltage of the battery. If you are unsure of the battery voltage, we'd be happy to assist you.
What makes a 52V e-bike battery better than a 48V e-bike battery?
We offer electric bike batteries in a variety of voltages, including 36V, 48V, and 52V. 48V and 52V batteries are the most common types of electric bike batteries, and each has its own characteristics.
The main difference between the two battery packs is performance and power.One of the many reasons why 52V e-bike batteries are considered better is that they offer better performance. Due to the higher voltage, 52V ebike batteries are far more efficient and powerful than 48V ebike batteries. This means that a 52V electric bike battery can provide greater acceleration and hill climbing ability and can be driven for longer distances.
In addition to the performance benefits, 52V e-bike batteries also offer longer battery life and charging cycles. This means that 52V e-bike batteries can last longer and require less recharging.
Lastly, most newer models of e-bikes are compatible with 52V e-bike batteries. This means that if you are looking for a state-of-the-art electric bike battery, a 52V battery is a better choice.
How long does a 52V e-bike battery last on a single charge?
TBatteries can travel approximately 24 km to 114 km on a single charge. To ensure that your battery performs at its best, we recommend that you follow the charging and usage guidelines below:
Charge the battery after each ride. A typical lithium-ion e-bike battery can be recharged to 90% in 2.5 hours or sometimes less, depending on the voltage.
Keep your battery fully charged every few weeks. On average, you should charge your battery pack when it reaches 30% to 60% of its capacity.
Do not fully discharge your e-bike battery.
If you have any questions, please feel free to contact us.
Tailored Customization
Our design team can create custom battery designs for just about any device or machine.
Timely Delivery
Our efficient production and distribution process gets your product delivered in a timely manner.
Quality Guarantee
We stand by our products and guarantee you'll be happy with your purchase.