Choosing a supplier for your lithium battery pack is an important process in ensuring your battery-operated product is effective, efficient, and safe for consumers to use. Not all lithium battery pack suppliers are equal, and choosing the right one can save you a great deal of hassle and headache in the long run. Here are 8 factors to consider when choosing your lithium battery pack supplier.
Experience for Battery Pack Suppliers
A new lithium battery company might still be figuring out its processes, so look for a lithium battery factory with a proven track record. Check on their website to find out how long they've been around, what their customers have to say about them, and notable success stories.
Quality Control Standards
When considering suppliers, check for certifications such as ISO 9001 and/or ISO 14001 to ensure that your potential supplier has a focus on quality control and safety standards. Additionally, for non-customized batteries, you'll want to consider whether a supplier's products are UN38.3 Certified, meaning they're in compliance with accepted safety standards throughout the UN as well as the U.S. This certification becomes a little more nuanced when it comes to suppliers who design custom battery packs, as UN38.3 certification would need to be acquired for each new design.
Customization
You want a supplier that's going to meet your specific needs, and this starts with customization. Look for a supplier that prides itself on the extent of its customization capabilities and that is willing to work with you rather than provide you with pre-made options. Make sure all battery features are included in their customization offerings, such as voltage, battery size, and capacity.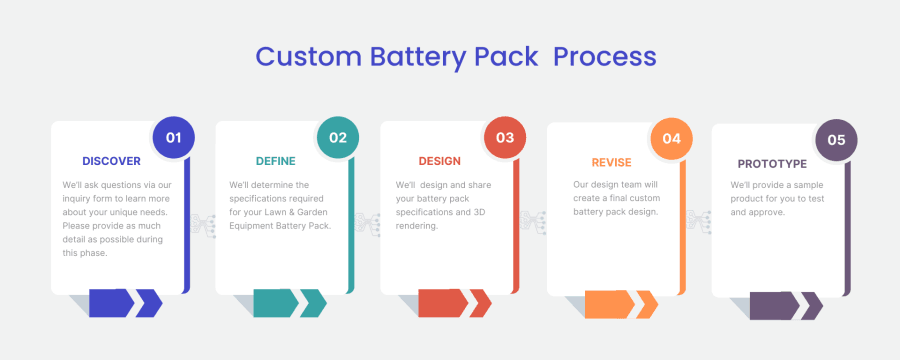 Research and Development
You want a custom battery suppliers that's always improving, to make sure they will be providing you with the most cutting-edge technology possible. The lithium-ion battery manufacturing industry is constantly changing as new technological advancements are being discovered, and you want to make sure your supplier is taking those changes into account. A sizable investment into R&D will let you know that your supplier is staying ahead of the rest of the industry.
Scalability
Look for a supplier with the capability to grow as your company does. This means having a sizable facility and team that can upscale your order on short notice. Investing in a supplier with these qualifications can prevent last-minute scrambling if you ever need to grow your order size.
Customer Experience and Support
Choosing a supplier that values customer support will provide you with peace of mind and the ability to solve unique problems together in the future. Make sure you have access to an expert who can answer your questions to make sure you avoid delays in problem-solving at inconvenient times.
Also, look for companies that value the customer experience. Use customer testimonials, reviews, and success stories as a starting point when evaluating a company's customer experience execution.
Sustainability
How much a lithium ion battery business company respects its environment is a good indicator of whether they value things other than its bottom line. Look to see if your potential supplier makes an effort to reduce waste and utilize recycled materials, and how they encourage their vendors to do the same. These efforts would demonstrate that you'd be working with a three-dimensional company that can go above and beyond for your working relationship.
Value
Price matters, but not as much as value. Look for quality, durable products that will ultimately elevate your brand and reputation.
We believe that you only need to follow the above 8 suggestions, and you can find a suitable battery pack supplier. If you have more questions, please contact us!